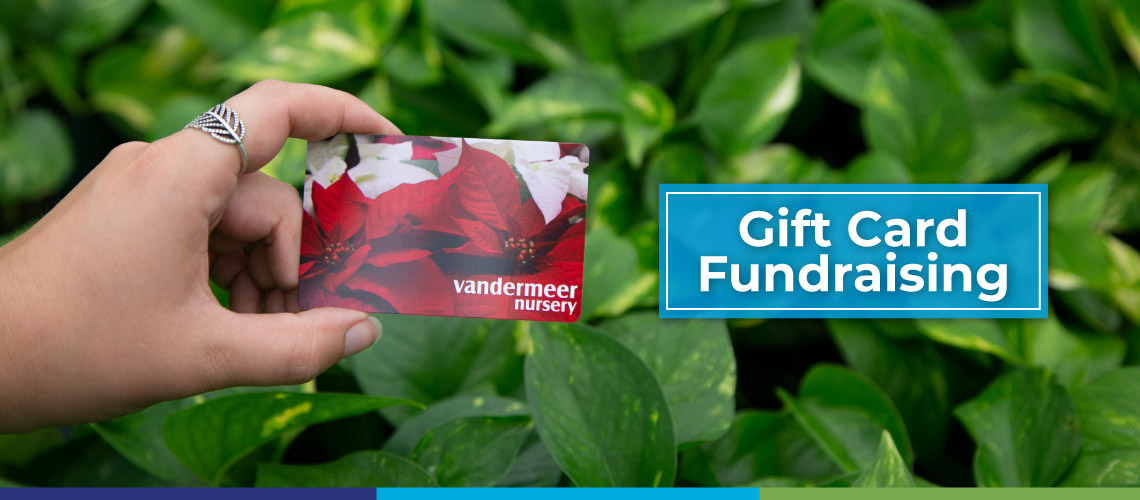 Winter fundraising in partnership with our community.
About The Program
Looking to help raise money for your school or organisation this winter season? Registration for our Gift Card Fundraising is now open! We are accepting participants until December 4th and gift cards will be available for pickup from November to December.
If you have participated in our fundraising program in the past, this year will be a little different due to the pandemic. Rather than our usual range of holiday arrangements, we will only be offering our Gift Card program at this time due to product shortages and our aim to reduce potential contact transmission through deliveries.
However, the program will still function similarly as before! For each gift card sold, a portion of the cost will go towards your organisation's fundraising efforts. For program details and benefits, please get in touch with us and we'll send along the fundraising packet with more information.
About Our Gift Cards
Vandermeer Nursery gift cards have no expiration date and may be used at any time in our store! They may be used to purchase any product except for other gift cards and landscaping services.
---
Getting Started
To participate in our Gift Card Fundraising program, please send an e-mail to fundraising@vandermeernursery.com, call our store at (905) 427-2525, or drop by in person to get started. We anticipate a volume of requests so we appreciate your patience as we do our best to respond to every inquiry.
Eligible Participants
Our Gift Card Fundraising program is open to schools, sports teams, clubs, boy/girl scouts, fraternities, etc.
Churches may participate if raising money for a cause.
Other participants will be considered a special order and will receive 20% off their order.
Please contact us if you have any questions about your eligibility to participate in our fundraising program.
Program Dates & Deadlines
Registration Deadline:
December 4th, 2020
Gift Card Order Submission Deadline:
3 days prior to pick up
Last Day for Pick Ups:
December 18th, 2020
Gift Card Pickups
Gift cards must be picked up during our normal retail operating hours.
Payment to be accepted at customer service first, then gift cards may be picked up.
One representative from your organisation will need to pick up your total order of cards (to be distributed amongst your customers).
We regret that we cannot release gift cards to multiple parties or parents from your organisation.
Payment
Please provide payment for the full order at the time of gift card pickup. Mailed cheques will not be accepted as payment. We do accept credit card, cheque, and cash.
---
Preview the Program Sheet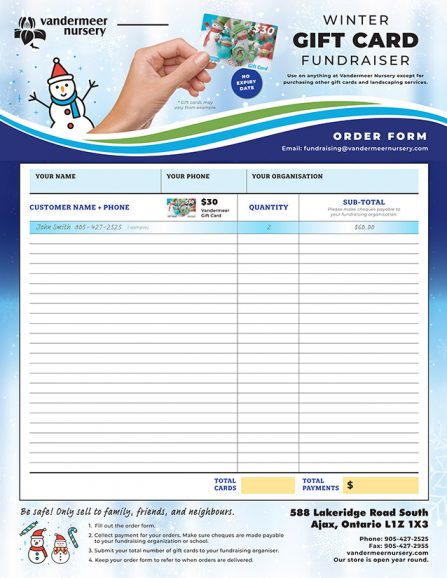 ---
Community Partnership
Vandermeer Nursery is a 3rd generation, family-run business that has been operating in Ajax for nearly 60 years. We've been offering our spring and winter fundraising programs for over 15 years now! We have successfully helped hundreds of local non-profits and teams with their fundraising efforts by offering quality seasonal arrangements at discounted price for the organisation to sell at retail cost.