We are re-opening our doors to limited walk-in visits. For the continued health and safety of our customers and staff, we require visitors to observe all safety precautions posted throughout our store. At this time, ALL SALES ARE FINAL and we cannot accept returns or exchanges until further notice.
We are no longer doing curbside pickups or online ordering. To read our COVID-19 store policy, click here.


Spring's happening now in our garden centre
We're getting ready to re-open!

May 8th, 2020
With the support of the Ontario government allowing garden centres to open their doors, we will be opening our store once again to limited walk-in traffic (observing safety precautions) on Saturday, May 9th at 8AM. To ensure that we have everything in place to maintain the health and safety of our customers and staff when we re-open, we have prepared safety measures and store policies similar to what you may have recently experienced at the grocery store. For your safety, please review our new policies below before coming to visit us.
No more curbside pickup + online shop



When we temporarily closed our retail store in March, we offered online ordering in response to our customers wishing to keep planting via curbside pickup. Now that our store is opening again to the public, we unfortunately will no longer be able to offer our online shop or curbside pickup program. Our temporary solutions helped to make virtual shopping possible, however, curbside fulfillment required unparalleled efforts to maintain and is simply not feasible for us to manage at this time with open doors, limited time, and limited staff.
Both our online shop and curbside pickup service will end on Friday, May 8th.
Of course, we will continue to process all existing orders that we've received since the cut-off date. If you have paid and ordered online from us, please wait for your confirmation email to arrive before visiting us. You will receive instructions on when your pickup order will be ready. Your order will be held aside in one of our separate greenhouses in the meantime.
Thank you for growing with us



As we prepare for another spring season, we wish to thank our wonderful customers for your patience during these past few weeks. We've undergone many swift and necessary changes in succession at Vandermeer Nursery and we greatly appreciate your support as we've learned to navigate new ways of bringing quality plants and gardening essentials to you.
Thank you for being with us and growing with us through these uncertain times.
- Vandermeer Nursery Family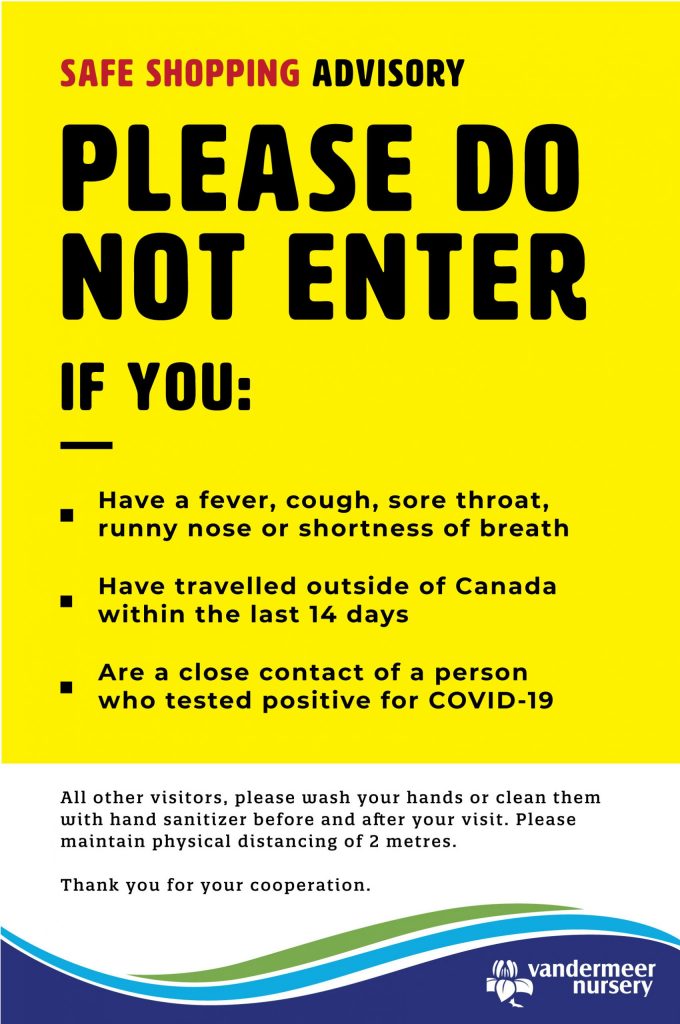 ---
Vandermeer Nursery has been family-owned and operated for over 50 years.
Spring may look a little different this year but our garden centre is still growing. We grow thousands of plants in our greenhouses for every season, using biological pest controls and sustainable practices to help keep our plants pollinator-friendly. Visit our garden centre on the corner of Lake Ridge Road South and Bayly Street for all of your gardening, pond fish, and water gardening needs.
---
Join our newsletter
Click here to sign up for our newsletter and never miss an update from Vandermeer's!